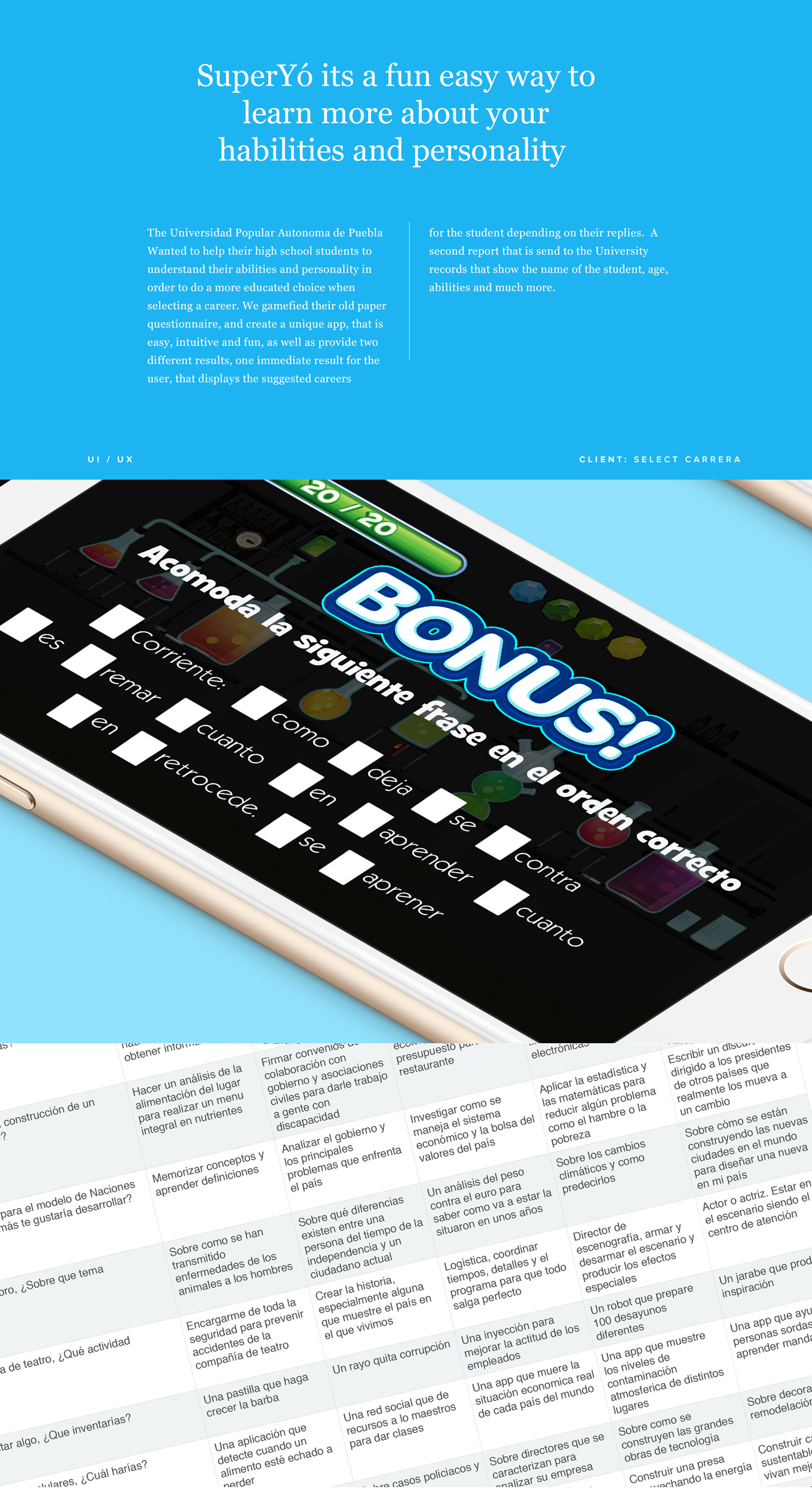 The Challenge 

Engage high school students in a fun dynamic way

Universities need to know more about the potential students coming in, what are their passions, motivations and interests, in order to provide better quality educations and better programs.
They used to have paper based tests, that took several hours to finish and took a couple of days for the institutions to give students their results.
We needed to improve this experience, for the high school students and the people involved in the process of doing this evaluations.
The Approach
A gamefied, reduced version of the original questionnaire (
original questionnaire was over 100 questions)
where the student is being rewarded on short accomplishments, displays the progress, and they can receive their results at the end of the game.
______________________________________________________________________________________________
What is SuperYó

Super Yó was created for an educational institution that was looking for new ways to apply a questionnaire to their students in order to learn more about their personality and abilities, to provide better guidance in the path of selecting a career.
The institution noticed that students were getting extremely bored with the traditional paper and pencil questionnaire, with over 50 questions; they noticed several problems

a) Students loosing focus and interest by the end of the questionnaire.
b) Tracking time for some of the questions was very complicated and required extra time.
c) Results were given a day or two after the questionnaire was taken.
d) Keeping a record of every student that has taken the test was becoming a very demanding task

______________________________________________________________________________________________
Personas
The main users for this product will be high school students in the state of Puebla in Mexico, that are interested in having a better understanding of their abilities and their personality trades, in order to have a more educated choice about the career path they want to follow.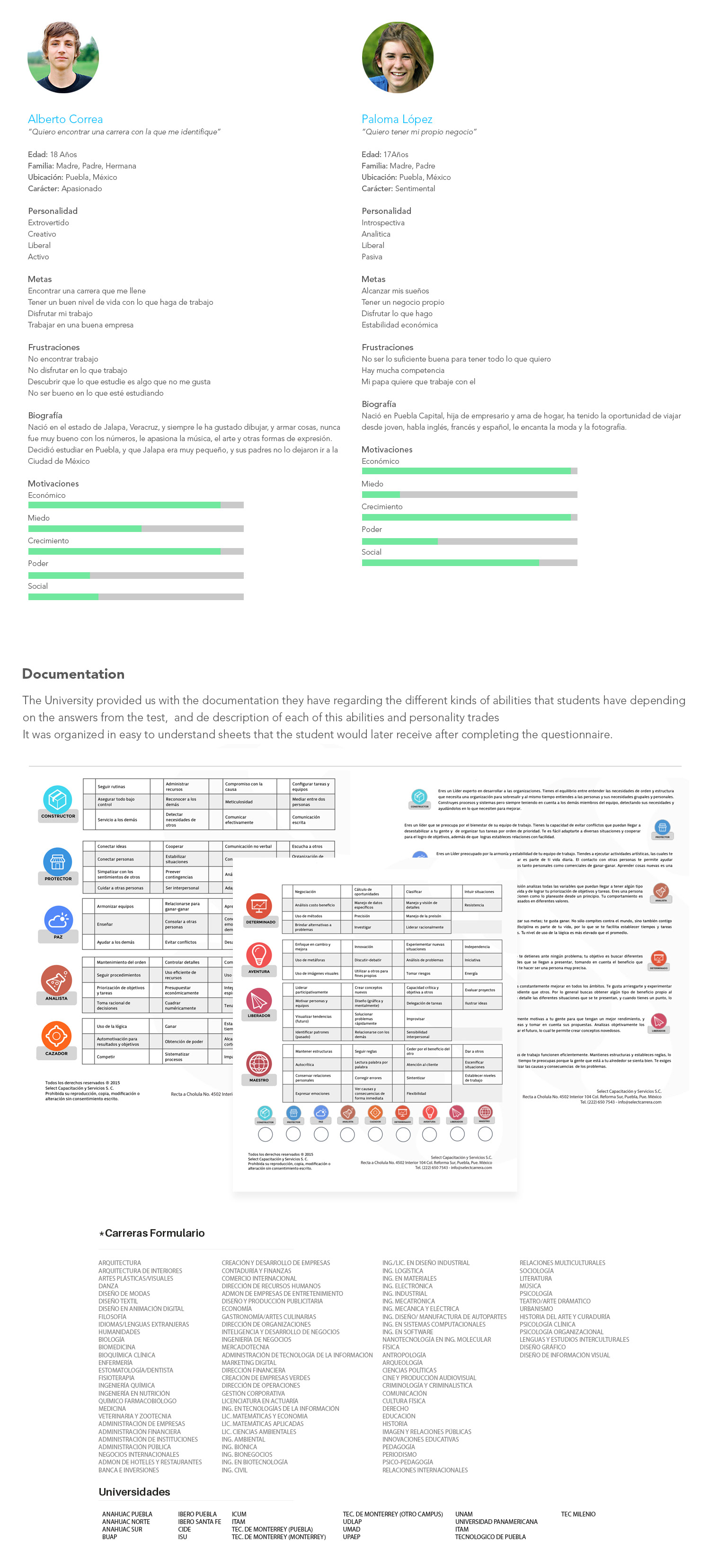 Structure
Each of the abilities were separated by color and icon, and separated depending on the answers that belong to that specific item.

The abilities and strengths that we see in the end result of the questionnaire depend on what area of the brain the person uses the most, the brain is divided in 4 regions: Frontal right, Frontal Left, Back right, Back Left, its very normal that people use more than one region of the brain, knowing this allowed us to create the following graph, and designate a color
 (ability) to each of the regions of the brain, as well as the combination of two or more.
Note:
The term brain hemisphere, could not be used at any moment due to copyright from another institution. Which lead us to give each of the areas an element
______________________________________________________________________________________________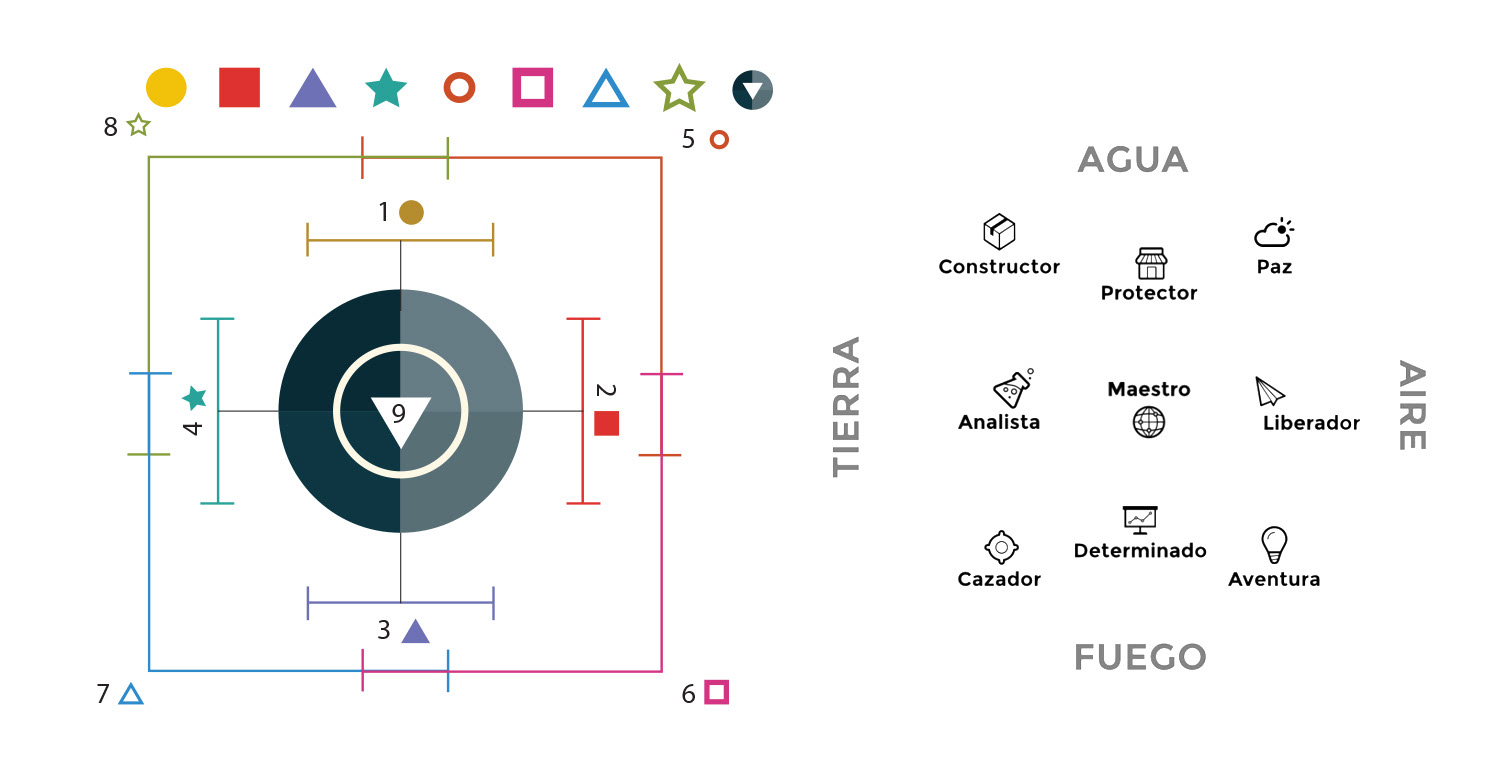 Wireframes
The wireframe process helped us with early usability tests, the users where presented with different scenarios, the lab was the most chosen one, since it gave more interactivity and was more coherent with the product.
______________________________________________________________________________________________